$10,000 Top Prize, 100% Commissions on Entire Funnel.
Upto $154 Commish!

 Cart Opens: 9am EST Tues 15th March 2016
$10,000 Top #1 JV Prize
100% Commissions On ENTIRE Funnel
Upto $154 Commission Per Customer
$20,125 Up For Grab In Cash / Prizes
Irresistible Front-End Offer ($9.95)
High-Converting Upsells & Downsells to Maximize Your Earnings
IMPORTANT JV CONTEST RULES: Teams of upto 3 people allowed ¦ You must notify me of teams (JVZoo IDs) BEFORE Go Live on Tue 15th March 2016 ¦ No teaming up / changing / adding to teams after Go Live
"Only The Zoo Will Do..."
Yes, we're launching this bad boy on JVZoo.
Click the magic button below to grab your link.
If you want email updates from me about the launch as the frenzy unfolds (always good for a laugh) enter your email over there on the right. Yes that box there, just whack your email addy in there.
And as always - no promoting using spam, link farms or weapons of mass destruction. Cheers.
Enter Your Email For Launch Updates
STEP #2. Personalize Your Affiliate Tools
STEP #3. See Funnel & Salesletter
What Is Commission Black Ops?
I'm making $39,041.46 per month in commissions (I calculated this over the past 12 months).
I'm using a unique strategy to do this which nobody else is using - hence "Black Ops".
I'll be teaching this strategy in the front-end product and then helping them get there easier and faster with the upsells.
3 THINGS YOU WANNA USE IN ALL YOUR PROMOS
#1. The curiosity about who "this guy" is (don't come out and name me right away)
#2. The curiosity about how this guy is making $39k a month
#3. The curiosity about what the four qualifications are to get this info (makes them want it more)
Upto $154 Commissions per Customer!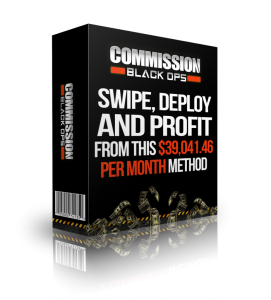 The Front-End is the $9.95 Field Manual - this is a step-by-step guide (and accompanying video and audio version) which shows people the exact strategy I'm using to make $39,041.46 Commissions per Month.
The first upsell is "The Done For You Service" ($97). This gives buyers a series of never before released, done-for-you commission-creating campaigns they just swipe and deploy. Each campaign includes all the promotional materials, a special discount coupon code they can pass to their buyers and a special bonus they can use to incentivize people to buy through their link.
The second upsell ($47) is "Commission Black Ops ELITE" which gives buyers a series of money-making, fill-in-the blanks templates as well as in-depth "Black Ops Recon Videos" explaining advanced commission-creating tactics.
STEP #4. Win Cash / Prizes (You Choose!)
1st Place Prize:
Tailor-Made Bulletproof Suit ($10000)
Yes.
You no longer have to choose between looking sharp or being a sharp shooter on your missions.
Because the world famous tailors Aspetto in Fredericksburg, Virginia, will kit you out in this top-of-the-range tailormade bullet-proof suit.
You can finally attend events safe in the knowledge those psycho newbies can't assassinate you.
Sleep safe, look smart, stay alive.
Cash Value: $10000
2nd Place Prize: Bulletproof Gun Safe Bedframe ($5000)
 What better place to hide all your Special Ops weaponry than under your bed?
And just in case someone wants to shoot your guns - you're covered. Because this under-the-bed gun safe is bulletproof.
Go figure.
(German Shepherd attack dogs not included).
Cash Value: $5000
3rd Place: First 24 Hours Survival Kit ($2000)
When Trump is President it's only days until the Zombiepocalypse...
So prepare in style with this couture (yet deadly) gentleman's briefcase.
It handily contains an array of weapons designed to maim, injure and kill - perfect for surviving a post-nuclear event in the 21st century.
Enjoy.
(Of course - being that it contains weapons you're probably best taking the cash alternative but you can't deny this things looks cool as hell.)
Cash Value: $2000
4th Place: SAR12C Sniper Rifle for Paintball ($1000)
Want to show the teenagers who's boss at your local paintball establishment while simultaneously maintaining a safe distance?
Then look no further than the Carmatech SAR12C Sniper Rifle.
Patent Pending Bolt Action Operation, Integrated 13ci/3000 Air System and most importantly of all...
Made In The USA.
Show no mercy.
Cash Value: $1000
5th Place Prize: XM-42 Hand-Held Flamethrower ($750)
Every home should have one.
Especially if that home is inhabited by a Special Operative such as yourself.
Now you can toast your enemies (and burgers) without even having to leave the comfort of your armchair.
Ahhh... Happy days.
Oh by the way - these are illegal in some states and most countries so I'll probably send you the money if you win this prize but we can all dream of burning our enemies to a crisp can't we?
Cash Value: $750
6th Place Prize: PlayStation 4 1TB Console - Call of Duty: Black Ops 3 Limited Edition Bundle ($500)
What better way to unwind after a day of killing enemy operatives in the field than turning on your PlayStation 4 and killing virtual enemy operatives?
This Black Ops 3-branded bad boy will be the envy of your neighborhood.
It comes bundled with Black Ops 3 itself and some add-on thingie called "Nuketown".
Result? Bags of fraggin' fun for you.
Cash Value: $500
7th Place Prize: Maverick Swiss Army Watch ($350)
You might not have the chops (or desire) to join the real Swiss Army...
But why bother when you can strap this real Swiss Army watch to your wrist and pretend you're a fighter in the most neutral, non-fighting nation on the planet?
You're not gonna believe this but...
This thing also tells the time. Go figure.
Cash Value: $350
8th Place Prize: The Bug a Salt 6-Pack Assault Rifle ($250)
Do you hate flies flying around your house looking like they own their place?
Do you want to blast them right out of the sky with a pump action shotgun loaded with salt?
Sure you do.
That's why I'm giving you a SIX PACK of the world famous "Bug a Salt" so you can splat your way to germ-spreading heaven in your humble abode.
Ready, aim, SPLAT.
Cash Value: $250
9th Place Prize:
Spy Rover Tank ($175)
Easily scare pets and children without having to leave your armchair with this handy RC tank.
It's green, black and goes like shit off a stick.
And the best part?
It fires real rounds of ammunition.
(Okay I made up that last part). But it's cool as hell anyways...
Cash Value: $175
10th Place Prize:
Code Red Throat Mic ($100)
Yes this Bruce Willis.
Yes he is wearing a Code Red Throat Mic.
And yes you can wear one too and be just like a real Black Ops soldier.
How cool is that?
Answer - purdy cool.
Cash Value: $100
STEP #5. Who Will Win The $10000 Top Prize?
COMMISSION BLACK OPS
LEADERBOARD
YOUR NAME HERE
OTHER AFFILIATE
OTHER AFFILIATE
OTHER AFFILIATE
OTHER AFFILIATE
OTHER AFFILIATE
OTHER AFFILIATE
OTHER AFFILIATE
OTHER AFFILIATE
OTHER AFFILIATE
IMPORTANT: JV CONTEST RULES
Teams of upto 3 people allowed
You must notify me of teams BEFORE Go Live on Tue 15th March 2016
No teaming up / changing / adding to teams after Go Live
(c) Copyright 2016. Special Operative "Michael Cheney". All rights reserved.